LNTA HISTORY
Since 2003 Leave No Trace Australia Limited has been teaching these principles through skills programs and developing materials for different bioregions and activities in Australia. The Australian Government's Department of Environment and Heritage (DEH) funded the development of the nationally accredited Leave No Trace Master and the Leave No Trace Trainer courses, and the production of the first edition of the Australia, Leave No Trace Skills and Ethics Handbook. Draft Skills and Ethics editions for the Australian Alps, Tropical Savannah, Greater Blue Mountains World Heritage Area, Southwest Australia, and Wet Tropics are in development.
Activity specific literature for Mountain Biking, Rock Climbing, Sea Kayaking, 4Wheel Driving, White Water Paddling, Whale Watching, and Blue Seas are being developed with the assistance of Professor Ralph Buckley, Griffith University, and the International Centre for Ecotourism Research.
MILESTONES
2003-2006
A Memorandum of Understanding was signed with Aboriginal Tourism Australia (ATA) and Western Australian Indigenous Tour Operators Committee (WAITOC) (March 2003)
The Environment Protection and Heritage Ministers Council (EPHC) endorsed the report Going Places: developing natural and cultural heritage tourism in Australia – Key Opportunities. One of the key opportunities identified in the report is to develop a coordinated national minimal impact program, Leave No Trace, which encourages environmental and social responsibility. (May 2003)
The Department of Environment and Heritage sponsored Leave No Trace Australia to customise the program for Australian conditions. (June 2003)
The Australian Federal government's Department of Environment and Heritage (DEH) divisions Parks Australia and Corporate Relations and Education Branch both give ongoing support to this program. (2003)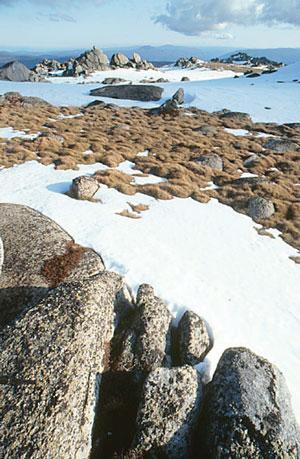 The National Environmental Education Council endorsed the Leave No Trace Australia program. (August 2003)
The Program developed strong synergies with the National Action Plan for Environmental Education (2001-2006) by raising the profile of environmental education and providing better coordination of environmental education activities throughout Australia.
The Leave No Trace Master Course was mapped against the national competency based training program and has been integrated into industry accreditation schemes and contributes to sustainable tourism in natural and cultural heritage places. (September 2003)
• Australia's Tourism and Transport Forum has acknowledged the Leave No Trace program as industry best practice in its 'A Natural Partnership' report. (June 2004)
Memorandums of Understanding have been signed with the Western Australian Department of Conservation and Land Management (CALM) (November 2005) and subsequently delivery of professional development training in the Leave No Trace program has been undertaken to graduate recruits and Indigenous rangers as part of the Mentored Aboriginal Training and Employment Scheme (MATES) – winner of the prestigious national Diversity at Work Award (2006).
Australia's Northwest, a regional tourism industry association, initiated the first regional application of the program in Australia as part of the Kimberley Sustainable Tourism Project (September 2004 – June 2005).
2015
22 June 2015 Leave No trace starts training program with Scouts Australia. Congratulations to all those that braved the weather to particapte in our firstLeave No Trace Australia Leave No Trace Trainer course held at Manjadel this weekend!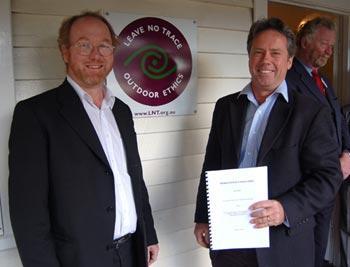 2007-2009
BHPBilliton – Ravensthorpe Nickel funds the Western Australian South Coast Leave No Trace project (2007) and places Leave No Trace Australia Ltd on their BHPBilliton Matched Giving program.
Tasmanian Parks and Wildlife Service MOU signed (June 2007) and pilot project in partnership with Pure Tasmania established at Freychinet. Tasmanian Parks and Wildlife Service in-service Summer Rangers. (December 2007)
Adventure Activity Standards (AAS) established using Leave No Trace in Victoria and WA through Departments of Sport and Recreation, Environment and Conservation, and Sustainability with initiatives in Tasmania, NSW and Queensland. (2007)
Queensland Sea Kayak Club initiates a 'Leave No Trace – Leave No Wake' project. (2008)
MoU was established with Parks Forum – the peak parks and protected area management body in Australia and New Zealand. www.parksforum.org (2008)
Resources sector contracts Leave No Trace Australia to provide minimal impact awareness training for company staff and contractors. (2009)
2010
Indigenous Rangers – Training delivered to over 120 Rangers at the Kimberley Rangers Forum
Outdoor Council of Australia. Partner.
SKILLS AUSTRALIA – member of Review Committee for Minimal Impact education and Outdoor Recreation Training Package (applicable to Tourism, Land Management etc).
LNT eLearning platform developed.
Dr Alexander Watson becomes LNT Australia National Program Manager.
Blacktown 4WD LNT Education Project.
Arthur-Pieman 4WD LNT Education Project.