WELCOME TO WESTERN AUSTRALIA'S SOUTH COAST!
The South Coast region of Western Australia is renowned internationally for its diverse plant and animal species and ecosystems. It has been recognized as one of the world's 25 biodiversity hotspots and is noted for its significance and urgent need for protection and conservation.
A popular destination for those who enjoy a variety of coastline and landscapes, it is a truly unique and extraordinary environment. Leave No Trace asks for special consideration for the protection and preservation of all natural and cultural heritage sites.
As you visit this special place, please take care to Leave No Trace!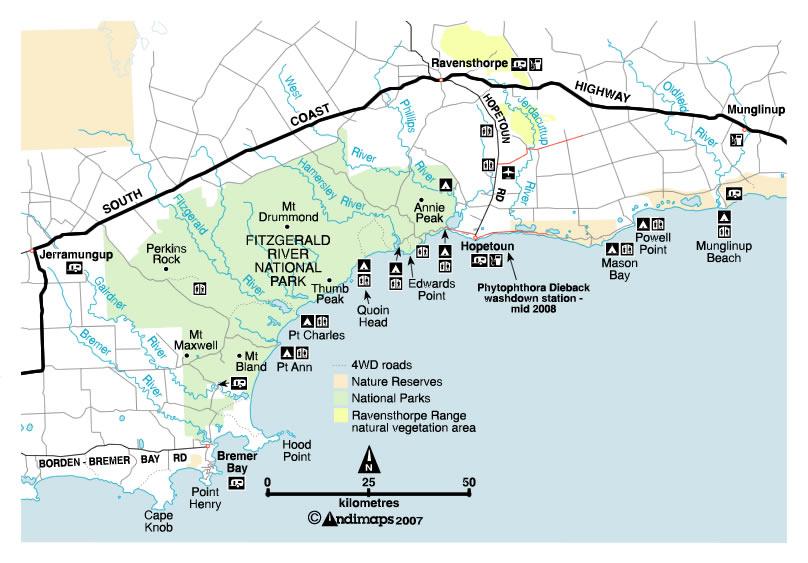 BIO-SECURITY THREAT ALERT!
Phytophthora cinnamomi is a soil-borne organism that causes root-rot disease and affects almost half of Australia's plant species. This form of dieback can destroy species such as Banksias, grass trees, dryandras, leucopogons, hibbertias, and many others in forests, woodlands, coastal heaths, and wetlands. Dead foliage is a sign of its progression in trees and vegetation. It is an aggressive threat and a major problem in the South Coast area. The loss of vegetation also destroys unique habitats for many mammal and bird species that rely on eucalypt forests, woodlands, and montane heathlands in the South Coast for food and shelter. Phytophthora cinnamomi spreads through the transfer of infected soil and invades plant roots and stems. We can also spread dieback by transporting mud on our boots, tire treads, and gear. To prevent the spread, make sure to clean all mud before and after traveling through any area, even if it is not an affected area, and follow all signage directions, using wash down stations where provided, and avoiding all known dieback areas.
AREA INFORMATION
The Department of Environment and Conservation, Western Australia (DEC) manages the following National Parks and Nature Reserves in the South Coast Region:
Mt. Lindesay National Park
West Cape Howe National Park
Torndirrup National Park
Waychinicup National Park
Bald Island Nature Reserve
Stirling Range National Park
Lake Magenta Nature Reserve
Fitzgerald River National Park
Frank Hann National Park
Stokes National Park
Cape Le Grand National Park
Cape Arid National Park
DEC promotes the use of Leave No Trace principles in all its parks. Please follow all guidelines to minimize your impact.
RUBBISH DISPOSAL STES:
Visitors are encouraged to take their rubbish back to major population centers such as Albany or Esperance. Plan ahead by having a container and rubbish bags for storage in your vehicle.
RECREATION:
For detailed information on recreational activities in the South Coast region, please consult the Department of Environment and Conservation (DEC) or the Leave No Trace South Coast Region Skills and Ethics Booklet. The booklet provides guidelines for minimal impact camping, bushwalking, 4WD driving, mountain biking, horse-riding, trail bike-riding, boating, and fishing.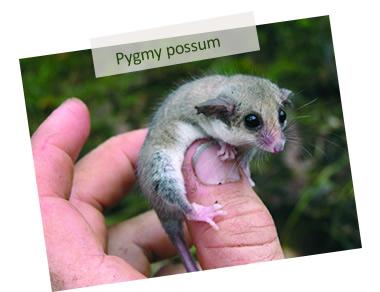 Download the South Coast Environmental Skills and Ethics Flyer